TechBC is our point-of-sale technology development department.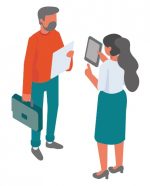 It is focused on developing and applying tools capable of auditing the marketing mix, measuring sales, valuing the image and improving the overall positioning of the brand, at the lowest possible cost to our customers.
We have several tools focused both on the execution and analysis of the brand in the POS, as well as the cost analysis by brand execution.
Own development of POS control software
Controlamos todo lo necesario para recopilar una información fiable y exhaustiva:
With this tool, our commercial teams take note of all the data necessary for reporting.
Shelf analysis tool by photographic recognition
We analyze same as with previous tool. We just save time, the one which invest our sales forces with regards to data collection in the POS
With PRO. Display all the information is provided in web environment, excel, power point reports, etc. It is also embeddable in any customer CRM system.
Sales measurement tool in displays, displays, refrigerators...
We have a tool that measures sales in your second placements. Some of its functions are:
GPS location, control and equipment management App
Our App allows us to calculate and analyze the best routes, in order to maximize the efficiency of our Sales Forces.
In addition, our fleet, route and equipment control tool generates exportable reports to Excel to make it easier for data analysis.